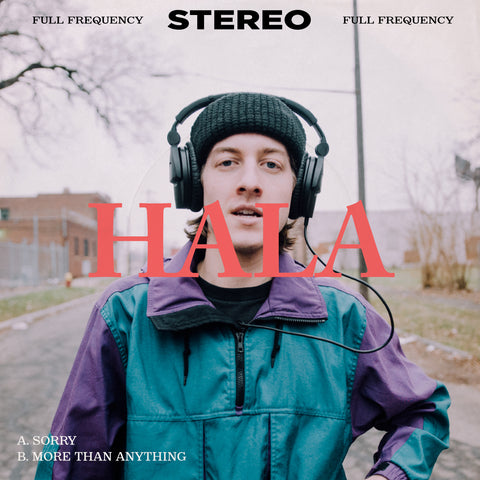 Hala - 'Sorry' b/w 'More Than Anything' 7"
Ian Ruhala, better known as Hala, has been writing and recording music for several years now and at the age of 21, he is already a singer/songwriter veteran.

After picking up the guitar (and learning how to properly play with the help of his father Ben), Ian began crafting songs of his own. His first recording was done when he was eight years old, and was inspired by a joke his grandpa told him, "about a pickle that was bought for a nickel, and ultimately was freed getting struck by a train."

Several years passed, and so did several bands. In 2014, Ian's group at the time fell apart as the drummer (who had been with him for many years prior) moved to Washington State. Ruhala was pretty much band-less, for the months following. Later that year, Ian went through another tug of the heart strings, SPLITTING up with his girlfriend of nearly two years. Although being truly bummed; amidst this he felt an immense amount of inspiration.

Ruhala decided to take matters into his own hands. Solo artists like, M. Ward, Mac DeMarco, and Ty Segall fueled Ian's idea to begin recording at home AND WORKING WITH THE BAND INSIDE HIS OWN HEAD. In the beginning, he had very little knowledge and equipment. A couple of quarter inch-to-USB cables, and free recording software. It was during this time, in the storage room of his parent's house though, that Hala was born.
—
This is Hala's debut 7", and it is also his debut on vinyl. Pretty cool, huh? Pick one up before they're all gone.
200 on coloured vinyl (only this first run will be coloured, all you get is black for the second pressing!)
---
We Also Recommend